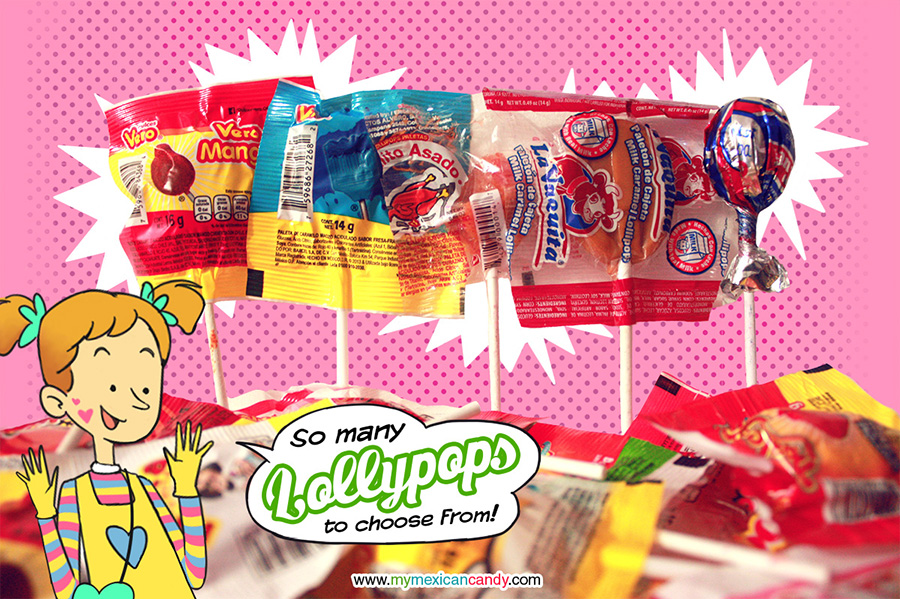 Marketing companies are coming to realize there is a growing need for sweets and snacks which appeal to tastes other than those of the conventional American ilk.Candy conventions are beginning to see more Mexican candy importers, and they are not supplying typical chocolate bars; though those are available too. No, the fact is that Hispanics' often have different desires when it comes to the taste of candy.
What are candy lollipops? Sure everyone knows these are the popular mouth-watering colorful candy with different sizes, shapes and flavors on top of a stick that people pretty much enjoy licking on it. But have you ever wondered what it is really made of and how it came to be? Candy Lollipop has always been one of the delightful treats that we have especially during childhood days. This is one of the comforting goodies that people especially children craved for due to its rich flavor and awesome designs, colors, sizes, and shapes. This sticky-pop as sometimes we call it, is a type of confectionery that consists mainly of hardened flavored sucrose added with syrup and placed on a stick.
Have you ever imagined what a candy lollipop would look like without a stick? Or if you had been the first person to invent the candy lollipop, how would you have designed it? Would you still have put a stick in between the circular candy?
Mexican lollipops captured that sort of flavor combination all in one spicy, sweet, and treat of refreshing. Mexican candy has many different types of lollipops like hard candy lollipops covered with chili, caramel lollipops with the tang of tamarind, hard candy lollipops with gum center and cherry flavor, and marshmallow covered with chocolate.
One of the most traditional lollipops is Vero Mango. This is a great concept for a lollipop. The outside is coated in chili. So as you lick through the salt and spice, you slowly start tasting the mango-flavored sweetness. It's nothing short of perfection.
Paleta Payaso is a Chocolate-covered marshmallow on a stick, topped with a "clown face" made out of jelly candy. That's all it is. But there's something else to a Paleta Payaso. It's dear to our hearts. Whenever you did a good deed, or behaved well at the grocery store, your reward was a Paleta Payaso. The paleta was a gift that said, "Hey! Maybe you're not such a bad kid after all.
For just a couple of dollars, you can make amazing customized treats for your kids! You always want the best for your kids, so try to experiment with different candy lollipop molds and make a candy delight that your kids will always remember.
If you are ultimately searching for the best Mexican Candy Lollipops for your family and friends, you don't have to start stressing yourself driving round the city. All you need do is to visit www.mymexicancandy.com for the varieties of incomparable candy lollipops in the world.